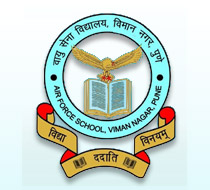 Admission List
Notice for Parents
Dear parents,
As per the prevailing pandemic situation, the school is not printing challans for the students' list published for classess LKG to XI for session 2021-22.
The amount of fees will be provided verbally at the school office.
Once the payment is done, you all are requested to compulsorily fill the Google form whose

link is provided below

and attach the clear and visible screenshot of payment history page/ extract of bank statement (with transaction number of payment).
The students who are newly admitted or re-admitted have to pay through NEFT / RTGS / UPI / cheque and have to fill the google form afterwards.
BANK ACCOUNT DETAILS

PLEASE FIND BELOW THE ACCOUNT DETAILS OF THE SCHOOL

1

Account holder name

Air Force School

2

Bank account number

11422151004243

3

IFSC

PUNB0114210

4

Branch

Punjab National Bank,Viman Nagar,Pune
Type of Account : Savings Account
Fill this link after fees paid for confirmation and details of fees u paid.
GOOGLE FORM LINK FOR CLASS LKG to XI*
AIR FORCE SCHOOL VIMAN NAGAR, PUNE
XI ADMISSION LIST 2021-22
Last date for payment of fees is 18 Sep 2021
Online classes for 11th will start on 20th Sep 2021
| | | | |
| --- | --- | --- | --- |
| SR. NO. | Full name of student in block letters | Full Name of Father | Fees amount |
| 1 | ARNAVI VIVEK BARVE | VIVEK VITTHAL BARVE | 24120 |
| 2 | PRATIKSHA DHIRENDRA SINGH | Mr. Dhirendra Singh | 23820 |
| 3 | YOGESH PAL | VIJAY SINGH PAL | 19289 |
| 4 | YASH SINGH | JAY SHANKER SINGH | 18689 |
| 5 | PRIYANSHU PRASAD | BACHA PRASAD | 18689 |
| 6 | TANISHQ CHOUDHARY | SHAILESH CHOUDHARY | 19289 |
| 7 | RITIKA SINGH | VIJAYENDRA KUMAR SINGH | 18689 |
| 8 | KRITIKA LUTE | BN LUTE | 20720 |
| 9 | SIDDHANT YADAV | Surendra Yadav | 19289 |
| 10 | AAKANKSHA SAH | NARESH KUMAR SAH | 18689 |
| 11 | Sandeep Kumar | Upendra Kumar Gupta | 18489 |
| 12 | BHAVYA PATHAK | Anoop Kumar Pathak | 18789 |
| 13 | PARIDHI SHUKLA | JWO Raj Kumar Shukla | 18689 |
| 14 | SHRISTI DUBEY | KRISHNA KUMAR | 19289 |
| 15 | AKSHITA YADAV | DEVENDER KUMAR | 18489 |
| 16 | ABHINANDAN SANJAY KOLATE | SANJAY KOLATE | 23820 |
| 17 | VISHAL SHUKLA | Arvind Kumar Shukla | 19289 |
| 18 | VAISHNAVI AVINASH YADAV | AVINASH KISAN YADAV | 19289 |
| 19 | GAYATRI PRAMOD SHINDE | Pramod Appasaheb Shinde | 24620 |
| 20 | AKASH CHANDRA VERMA | VIKAS CHANDRA VERMA | 18689 |
| 21 | SWARALI VINOD URMODE | VINOD TUKARAM URMODE | 24620 |
| 22 | SHIVAM SINGH RATHORE | UMA SHANKAR PRASAD SINGH | 18889 |
| 23 | YASH UDAWANT | Manoj Sahebrao Udawant | 24620 |
| 24 | KAVESH M | MANI. B | 23620 |
| 25 | JIYA KATARIA | MWO BALBIR SINGH | 18689 |
| 26 | AYUSH MISHRA | RAVI KUMAR MISHRA | 18489 |
| 27 | BHOOMI BALKRISHNA JADHAV | BALKRISHNA APPAJI JADHAV | 24120 |
| 28 | MANAS MADHUKAR | MUKESH KUMAR SINGH | 18689 |
| 29 | ANANYA RAI | DHEERAJ KUMAR RAI | 19089 |
| 30 | SANKET DASHRATH MORE | Dashrath Parasharam More | 19089 |
| 31 | TANMAY SINGH | RAJESH KUMAR SINGH | 24120 |
| 32 | TATHAGAT SARSWAT | Ashish Sharma | 23820 |
| 33 | ATHARV RAVINDRA MODHAVE | RAVINDRA RAJARAM MODHAVE | 4901 |
| 34 | EESHA MANDAR HALDAVNEKAR | Mandar Haldavnekar | 3630 |
| 35 | SHIVRAM GORAKHNATH SHINDE | GORAKHNATH DEORAO SHINDE | 23820 |
| 36 | GIRIJA MANOJ SUTAR | MANOJ SURYAKANT SUTAR | 19289 |
| 37 | SANIKA SURYAKANT KADAM | Suryakant Sadashiv Kadam | 24120 |
| 38 | NAMAN SHARMA | SURINDER KUMAR SHARMA | 23320 |
| 39 | ISHA THAKUR | Jagnnath Thakur | 23620 |
| 40 | ADITYA SRIVASTAVA | ALOK KUMAR SRIVASTAVA | 18489 |
| 41 | Vaishnavi Patra | Mr. Kiran Kumar Patra | 18489 |
| 42 | NOOPUR MOURYA | Sidheshwar Prasad | 18789 |
| 43 | SOURISH CHATTERJEE | Abhijit Saktipada Chatterjee | 18889 |
| 44 | APARNA ROY | SANTOSH KUMAR | 18689 |
| 45 | YATINDRA KUMAR JHA | KRISHAN KUMAR JHA | 18689 |
| 46 | VIPUL KUMAR | RAJNISH KUMAR DUBEY | 18689 |
| 47 | MUTUM NATASHA SINGHA | BIR KUMAR SINGHA | 23320 |
| 48 | Raveeshta Satheesh | Satheesh P.K | 23820 |
| 49 | PRASENJEET RAJESH KHANDARE | RAJESH KHANDARE | 23820 |
| 50 | SONU TUKARAM CHINTORE | TUKARAM CHINTORE | 23820 |
| 51 | ADITYA OM | OHMNATH DAS | 18789 |
| 52 | SAINATH SURAJ YADAV | SURAJ BABAN YADAV | 19289 |
| 53 | DIVYARUCHIKA DILIP MANE | DILIP SHAMRAO MANE | 18689 |
| 54 | SNEHA SHARMA | SANJAY SHARMA | 18789 |
| 55 | SALONI SURAJ YADAV | SURAJ BABAN YADAV | 19289 |
| 56 | SAMESH ASHOK RANGASWAMY | Ashok M Rangaswamy | 24620 |
| 57 | SUDHANSU KUMAR DWIVEDI | KRISHAN KUMAR DIWEDI | 18489 |
| 58 | ANSHOOL VERMA | Shatrughna kumar | 18489 |
| 59 | AMAN KUMAR SHUKLA | Rakesh kumar | 24620 |
| 60 | KUSHAL SUHAS SALVI | SUHAS LAXMAN SALVE | 24120 |
| 61 | ANAGHA CHILAMANATH | JAYAKRISHNAN THARAKAN | 28530 |
| 62 | ABHIJIT POTTY | Seenivasan Subramonian Potty | 28530 |
| 63 | AADYA SINGH | Subedar-Lalan Singh (Retd) | 28530 |
| 64 | SAI SANJAY DATEY | SANJAY NAMDEORAO DATEY | 28530 |
| 65 | Annesha Jitesh Roy | Late (Mr.) Jitesh Jiban Roy | 28530 |
| 66 | SHAMBHAVI RAJ | RAJESH KUMAR | 28530 |
| 67 | PRIYA RAJESH DAS | RAJESH GOPAL DAS | 28530 |
| 68 | YASHVI MILIND JAGTAP | MILIND BHALCHANDRA JAGTAP | 28530 |
| 69 | PARTH SUNIL SABLE | SUNIL DATTATRAYA SABLE | 28530 |
| 70 | MANVI VISHAL RAUT | Vishal Vitthal Raut | 28530 |
| 71 | SHARAYU SURESH JAGDALE | Suresh Uttam Jagdale | 28530 |
| 72 | SHIKHAR RAJENDRA SHETTY | Rajendra Sitaram Shetty | 28530 |
| 73 | ANMOL DINESH PANDEY | Dinesh Baliram Pandey | 28530 |
| 74 | OORJA PANDEY | Anand Pandey | 28530 |
| 75 | SNEHA YOGESH ADHAV | YOGESH Adahv | 28530 |
| 76 | PAWAN HARISH CHAVAN | HARISH CHAVAN | 28530 |
| 77 | ARYAN ANILKUMAR GOYAL | ANILKUMAR RADHESHYAM GOYAL | 28530 |
| 78 | ISHAN KUMAR | PANKAJ KUMAR | 28530 |
| 79 | PRASANNA VIJAY GAVHANE | VIJAY B GAVHANE | 28530 |
| 80 | TANMAY SIDDHARTH BAHULE | SIDDHARTH BAHULE | 28530 |
| 81 | Pranjali sanju Chavan | Sanju Vishnu Chavan | 28530 |
| 82 | ANUSHKA VINOD DHIWAR | VINOD NAMDEO DHIWAR | 28530 |
| 83 | SUHAIL IKBAL INAMDAR | IKBAL MAHAMMAD INAMDAR | 28530 |
| 84 | ADITYA UPADHYAYA | VIKAS UPADHYAUA | 28530 |
| 85 | ADINATH BRAMAHAPAL JAIN | Brahmapal Jain | 28530 |
| 86 | ASHWAQ MOHAMMED PASHA | MOHAMMED PASHA MURTUZA | 28530 |
| 87 | AAYUSH ANAND DESHPANDE | ANAND MADHUKAR DESHPANDE | 28530 |
| 88 | GLEN FRANK THALAKOTTUR | Frank K Thalakottur | 28530 |
| 89 | SARTHAK KHANSILI | DEVNDRA KUMAR | 22566 |
| 90 | TANISHQA WAGHMARE | VISHWAS RAMDAS WAGHMARE | 28530 |
| 91 | DARSHANA TUSHAR WANKHEDE | TUSHAR GULABRAO WANKHEDE | 28530 |
| 92 | PRATIKSHA P DHARMARAJ | PRASHANTLAL K DHARMARAJ | 28530 |
| 93 | Suhani Pandey | Yogesh Pandey | 28530 |
| 94 | SAKSHAM SINGH | SEP Satish Kumar Singh | 22566 |
| 95 | SHREYAS SWAPNIL PADWAL | SWAPNIL RAGHUNATH PADWAL | 28530 |
| 96 | SMRITI DUDHALE | SHASHIKANT SIDDESHWAR DUDHALE | 28530 |
| 97 | LAKSHYA KIRAN CHAUHAN | Kiran Bhanwarlal Chauhan | 28530 |
| 98 | ISHMAN SINGH | GURMEET SINGH | 28530 |
| 99 | RUCHIRA B GOSAVI | BHIMASHANKAR M GOSAVI | 28530 |
| 100 | DIKSHA DILIP KHANDEKAR | Dilip Maruti khandekar | 28530 |
| 101 | Ketan Sanjay samarth | Sanjay ramdas samarth | 22566 |
| 102 | ANISHA ABHAY DAHIBHATE | ABHAY SUDAMARAO DAHIBHATE | 28530 |
| 103 | ADITHYAN RAJESH NAIR | RAJESH SHIVRAMAN NAIR | 28530 |