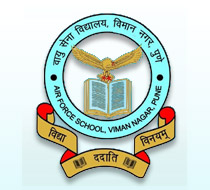 Admission List
Notice for Parents
Dear parents,
As per the prevailing pandemic situation, the school is not printing challans for the students' list published for classess LKG to X for session 2021-22.
The amount of fees will be provided verbally at the school office.
Once the payment is done, you all are requested to compulsorily fill the Google form whose

link is provided below

and attach the clear and visible screenshot of payment history page/ extract of bank statement (with transaction number of payment).
Please do not use the tab "Pay Fees online" provided on the school website.
That tab is for the students who are currently studying in AFSVN.
The students who are newly admitted or re-admitted have to pay through NEFT / RTGS / UPI / cheque and have to fill the google form afterwards.
BANK ACCOUNT DETAILS

PLEASE FIND BELOW THE ACCOUNT DEYAILS OF THE SCHOOL

1

Account holder name

Air Force School

2

Bank account number

11422151004243

3

IFSC

PUNB0114210

4

Branch

Punjab National Bank,Viman Nagar,Pune
GOOGLE FORM LINK FOR CLASS LKG to X
ADMISSION LIST 2021-22 FOR CLASSES LKG to X
AIR FORCE SCHOOL VIMAN NAGAR, PUNE

CLASS : LKG VN

SNO

STUDENT NAME

PARENT NAME

1

Neel Rahul Joshi

Rahul Rajendra Joshi

2

Svetlana Chaturvedi

Saurabh Chaturvedi

3

Sanaya Lal

Shivlal

4

Advika

Mr Mallikarjun Swatantramath

5

Ishan T.J

Liya Latheef

6

Aradhya Singh Thakur

Pradeep Singh

7

Bhumika Dikesh Pawar

Dikesh Omkar Pawar

8

Alok Singh

Anurag Singh

9

Ishan Choudhary

Sanvariya Lal Jat

10

Devyani Prashant Khude

Prashant Gajanand Khude

11

Aradhya Pal

Akhalesh

12

Vedika Tiwari

Shailesh Kumar Tiwari

13

Sanav Yadav

Manoj Kumar Yadav

14

Kaira Tripathy

Subrat Tripathy

15

Avyaan Anuj Khare

Anuj Khare

16

Daksh Singh

Pralay Singh

17

Aadvik Kumar

Srikant Kumar

18

Shouryan Nitin Kshirsagar

Nitin Subhash Kshirsagar

19

Sanav Yadav

Manoj Kumar Yadav

20

Vrishank Singh

Manohar Singh

21

Panshul Patwal

Naresh Patwal

22

Prisha Shivraj Patade

Shivraj Ganpat Patade

23

Ishan Paul K

Pushpendra Singh Pal

24

Amaya Sah

Santosh Kumar Sah

25

Shouryan Nitin Kshirsagar

Nitin Subhash Kshirsagar

26

Vedansh Kumar

Manish Kumar

27

Daksh Singh

Pralay Singh

28

Avika

Anand Mohan

29

Aayush Kumar Singh

Sonu Kumar

CLASS : LKG VSN

SNO

STUDENT NAME

PARENT NAME

1

Advik Ranjan Shrivastava

Brejesh Ranjan

2

Khavia Kumari

Yogitha Kumari

3

Veer Rokade

Amol Rokade

4

Shivansh Chavan

Ravindra Chavan

5

Shrishti Singh

Chandra Pratap Singh

6

Pornika Shrambalkar

Sanjay Shrambalkar

7

Komakshi Attri

Pradeep Kumar Attri

8

Snehil

Kapil Kumar

9

Jaisleen

Ajay Singh

10

Tejasvi

Sumit Kumar

11

Harshita Jindal

Aditya Jindal

12

Viraj

Arvind Kumar

13

Maithili Bhimrao Pandharpure

Bhimrao Kisanrao Pandharpure

14

Tushar Jha

Sudhaker Jha

15

Zairah Javed

Mohammad Ameer Javed

16

Zairah Javed

Mohammad Ameer Javed

17

Lakshya Jugran

Lalit Sharma

18

Aarya Thakur

Neeraj Kumar Thakur

19

Aarav Singh

Pankaj Kumar Singh

20

Panshul Patwal

Naresh Patwal

21

Prisha Shivraj Patade

Shivraj Ganpat Patade

22

Aarav Singh

Pankaj Kumar Singh

23

Sanav Yadav

Manoj Kumar Yadav

24

Ahana Chaturvedi

Amit Chaturvedi

25

Tanvi Manish Agarwal

Manish Agarwal

26

Tanush Manish Agarwal

Manish Agarwal

27

Ishanvi Tewatia

Deepak Kumar Tewatia

28

Kaira Subrat Tripathy

Subrat Tripathy

29

Srishti Singh

Chandra Pratap Singh

30

Kavaya Sandip Ghatage

Sandip Tanaji Ghatage

31

Tisha Vannurbasha Charuvula

Vannur Basha Charuvula

32

Devansh Ramesh Supekar

Ramesh Balasaheb Supekar

33

Snehal Sachin Rajput

Sachin Chatrusing Rajput

34

Riaan Ritesh Bhagat

Ritesh Prakash Bhagat

35

Shivansh Pareesh Phulkar

Pareesh Balram Phulkar

36

Ved Ramani

Nikunj Ramani

CLASS : UKG VN

SNO

STUDENT NAME

PARENT NAME

1

Siddharth Bhandari

Noveen Bhandari

2

Aarohi Soam

Sri Om

3

Abhimanyu Dixit

Ashutosh

4

Anay Kumar Singh

Chandan Kumar

5

Anika Gupta

Ashish Kumar

6

Anumeha Mishra

R.K. Mishra

7

Arunima Mishra

R.K. Mishra

8

Avnika

Vikram Swami

9

Avya Thakur

Amit Thakur

10

Ayaan Choudhary

Sudhir Kumar

11

Gartam Srihith

Krishna Rao Gartam

12

Kaavyanjali Yadav

Pushpender Yadav

13

Kavya Shukla

Lok Priya Shukla

14

Ruchika Tiwari

Rathis Kumar Tiwari

15

Samridhi Kumari

Ashok Kumar

16

Shailja Sachan

Mayank

17

Vedansh Vikash Raj

Vikash Kumar

18

Vidhi Mandavgade

Vaibhav Mandavgade

19

Devdutt Pahari

Shyam Sunder Pahari

20

Tushita Mishra

Anshul Mishra

21

Anaya Santosh Gaikwad

Santosh Hullappa Gaikwad

22

Aarush Kumar Tiwari

Ashok Kumar Tiwari

23

Shreya Amol Pawar

Amol Uttam Pawar

CLASS : UKG VSN

SNO

STUDENT NAME

PARENT NAME

1

Advik

Satyawan Sargwan

2

Advika Dwivedi

Shubham Dhar Dwivedi

3

Anika Chauhan

Vaibhav

4

Anish

Sujeet Kumar Singh

5

Anish Kumar Sah

Dilip Kumar Sah

6

Apoorv Mishra

Anurag Mishra

7

Arman

Inayat Ali

8

Arnav Mahesh Kumar

Mahesh Kumar Kalamkar

9

Aryan Chahar

Palendra Singh

10

Atharva Chahar

Ravendra Kumar

11

Atharv Sangwan

Lokinder Kumar

12

Daivik Upadhyay

D. Upadhyay

13

Ifsha Malik

Mohd. Hashim

14

Jayant

Parveen Kumar

15

Kaustav Kumar

Saurabh Kumar

16

Kritarth Dubey

Krishan Mohan Dubey

17

Kriti Singh

Som Bir

18

Nikhil

Kailash Chand

19

Niranjan S Menon

Sudeep U Menon

20

Naksh Jape

C T Jape

21

Om Rai

Hargovind Ray

22

Sarthak Dubey

Kartik Dubey

23

Shreyas

Vivek Kumar

24

Shreyas Amit Ingale

Amit N. Ingale

25

Tonangi Bhargav

Tonangi Ramana

26

Vinayak Kumar

Sujeet Kumar

27

Akshaja Sen

S. Sen

28

Haransh Singh

G Singh

CLASS : I

SNO

STUDENT NAME

PARENT NAME

1

Arnab Puri

Samarjeet Puri

2

Navya Dudi

Rattan Singh Dudi

3

Asad Mohsin Khan Pathan

Mrs Zareen Khan

4

Divya Sachin Chugule

Sachin Vijay Chugule

Monit Jindal

Aditya Jindal

Poorvi

Aditya Prakash

CLASS : II

SNO

STUDENT NAME

PARENT NAME

1

Shurya Bhandari

Noveen Bhandari

2

Ayush Pradeep Dhakoliya

Pradeep Meghraj Dhakoliya

3

Vedika Gholap

4

Prathana Duhal

Hav Duhal Vithoba Bajrang

5

Suryansh

Ak Mishra

6

Harshit Chaudhary

Harpal Singh

7

Gari Rutvik Ayaan

Gari Ganesh

8

Akrati Garg

Dhanesh Kumar Garg

9

Navyansh Garg

Dhanesh Kumar Garg

CLASS : III

SNO

STUDENT NAME

PARENT NAME

1

KASHISH

Kapil kumar

2

Bhudev Kumar

Narender

3

Adheesh

Aryadutt Shastri

4

Faizan Sadik Mulla

Sadik Ibrahim Mulla

5

Shaurya

Mr Virendra Kalkekar

6

Aeiban Sharma

Govind Sharma

CLASS : IV

SNO

STUDENT NAME

PARENT NAME

1

Harsimat

Anoop Kumar

2

Prakrity Singh

Jwo Sandeep Kumar

3

Rahi Sawant

Dhananjay Sawant

4

Vedang Lanjekar

Ex Col Manish Lanjekar

5

Jiya Choudhary

Prema Ram

6

Anvita Sharma

Sudhanshu Kant

7

Praneeth Seepana

Nagesh Seepana

CLASS : V

SNO

STUDENT NAME

PARENT NAME

1

Anokhi Sharma

Jitendra Kumar

2

Shivam Kumar

Santosh Kumar Gupta

3

Saket Kumar

Rajendra Kumar

4

Jay Chetangiri Goswami

Chetan Maheshbhai Goswami

5

Shivam Rai

Hargovind Ray

CLASS : VI

SNO

STUDENT NAME

PARENT NAME

1

Shalini

Rajendra Kumar

2

Aliya Tabassum

Md Naushad Khan

3

Anshika Mishra

A K Mishra

CLASS : VII

SNO

STUDENT NAME

PARENT NAME

1

Akshara Pradeepkumar Managoli

Pradeepkumar Guralingappa Managoli

CLASS : VIII

SNO

STUDENT NAME

PARENT NAME

1

Aarav Sharma

Govind Sharma

2

Naitik Kumar

Sunil Kumar

3

Sumit Bharat Bhanage

Bharat Saudagar Bhanage

4

Jayendra Narayan Shukla

Surendra Narayan Shukla

5

Khushi Vinaykumar Gaddam

Vinaykumar Shriniwas Gaddam

CLASS : IX

SNO

STUDENT NAME

PARENT NAME

1

Tejas Santosh Bathe

Bathe Santosh Chandar

2

Meher Kaur

Ranbir Singh

3

Shreya Sunny Singh

Sunny Kumar Singh Krishna Dutt

4

Jay Jinendra Jagtap

Jitendra Jagannath Jagtap

5

Shlok Kalpesh Sure

Kalpesh Vijayrao Sure

6

Samriddhi Raj

Arvind Kumar

7

Chirrag Chhabria

Vikki Chhabria

8

Amai Sachin Shinde

Sachin D Shinde

9

Chirrag Chhabria

Vikki Chhabria

10

Kshiti Jha Sahai

Shalabh Sahai

11

Shruti Anil Mishra

Anil Kumar Mishra

12

Shruti Nagoji Patil

Patil Nagoji Bhavaku

13

Shruti Nogoji Patil

Patil Nagaji

CLASS : X

SNO

STUDENT NAME

PARENT NAME

1

Shweta Nagoji Patil

Patil Nagoji Bhavaku